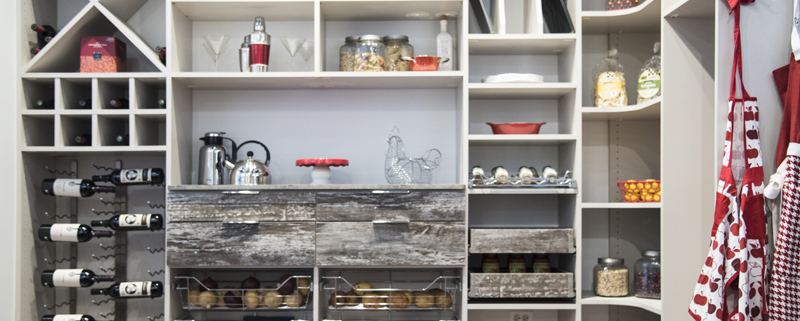 Where There is a Pantry Space for Everything, and Everything Has a Space
In the popular Downton Abbey television series, footmen and assistant cooks were often sent to the pantry to get a whole ham or some other ingredient for a meal. Alas, these days it is rare to find a footman, and most households don't employ assistant cooks.
Pantries today house our dry goods, cooking equipment and sometimes even our dishes and serving platters. As we approach the holiday season, you may be thinking that it's time to get organized and discover how a pantry can streamline seasonal celebrations.
A hallmark of a great pantry is visibility. Know where the canned soup is, and how many cans you have on hand. Who hasn't gone to the store, only to find another can or box of the same product you just purchased hiding behind something else?
Ease of use is another feature of a well-organized pantry. Pull out shelves, wire baskets and racks for seasonings or soft drinks make it easy for the cook to ask someone to help, whether they hold the title of assistant cook or not. No more, "Mom, I can't find it!"
Lazy Susan cabinet shelves are a real space saver, and they're fun, too. Which assistant cook wouldn't want to twirl the cabinet shelves to get a package of nuts for those special holiday cookies, or retrieve a bottle of that special wine you've been saving for the Thanksgiving table?
Vertical shelves for platters make them easy to find, and make setting up a holiday buffet less effort. Since the platter is visible, you won't have to remember where you stored it last December.
Marco Closets can modify your existing pantry, or create a new pantry that meets your needs and your budget. Whether your taste is rustic or refined, we have the perfect pantry and pantry accessories for you. Call us at (402) 778-5777.
https://marcoshuttersandclosets.com/wp-content/uploads/2017/11/rustic-pantry.jpg
540
800
Mike Herman
https://marcoshuttersandclosets.com/wp-content/uploads/2021/06/marco-logo.png
Mike Herman
2017-11-14 20:55:08
2021-06-21 22:00:22
Where There is a Pantry Space for Everything, and Everything Has a Space