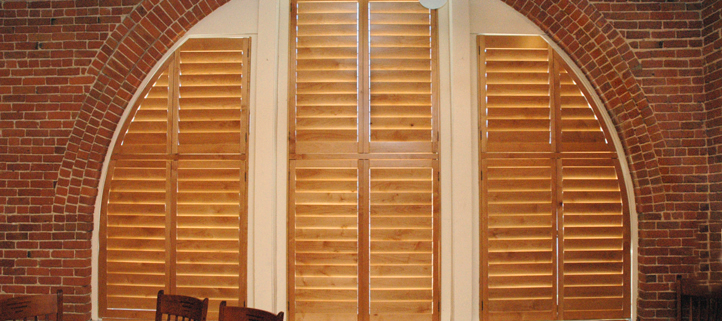 Marco Makeover: Custom Shutters for a Downtown Condo
If we break it down to its most basic elements, a window is a hole in a wall with a glass covering. That's just plain ugly, so custom shutters can come to the rescue to add security, temperature control and beauty to the window. Dressing a window with shutters is our preferred way to make an attractive statement!
But, what if your wall is over 100 years old and is a non-standard shape and size? The side windows in this Old Market condominium space are curved on the left and right. Standard shutters wouldn't do.
Marco was up to the task for this challenge because we make all of our shutters in our own factory. We began by making templates to custom-fit the windows. Then, we brought the templates back to the shop and fabricated the shutters. On the third trip, we took the shutters down to the Old Market condo and custom-fit them by sanding them on site. Our makeover for dressing a window with shutters was well on the way to completion.
Then, it was back to the shop, where we put on the final coats of finish. On the final trip we installed them for a perfect result!
No matter what window shape or size, Marco has the solution for the custom plantation shutters you need. These shutters were made of alderwood, but Marco works with many American hardwoods, such as walnut, maple, cherry, mahogany or oak. These are stained to match your decor. And, if you need painted shutters, we make those, too.
Call Marco Shutters today at (402) 778-5818. We offer free measuring and free consultation. No matter what your window shape or size, we have a solution for you.
https://marcoshuttersandclosets.com/wp-content/uploads/2019/02/custom-rounded-shutters-after.jpg
480
722
Mike Herman
https://marcoshuttersandclosets.com/wp-content/uploads/2021/06/marco-logo.png
Mike Herman
2019-02-12 07:09:36
2021-06-21 21:44:24
Marco Makeover: Custom Shutters for a Downtown Condo