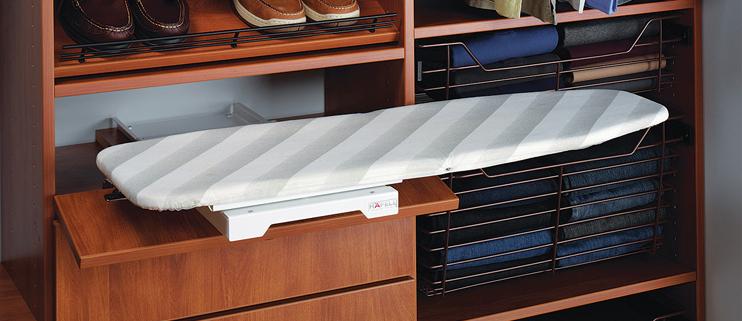 Ironing Boards Get A Makeover
The topic of ironing can be controversial. It's a love-hate thing: Some people love a crisp, starched look. Others prefer to go with gentle wrinkles and a bright smile. One objection to ironing is inconvenience. Lugging around an ironing board can be a buzz-kill, no matter how much you like crisp shirts.
Marco has a solution for that – a fold-out ironing board that doesn't need to be taken out of the closet. Why? Because it's IN the closet. Meant for walk-in closets, our fold-out ironing board is kept out of place. There's no big, heavy board to trip over. Installed in a closet drawer, it rotates 180 degrees. It features seven pre-set positions. It's also compact, fitting into a space that's 24 inches wide x 14 inches deep and 7 inches high.
When expanded, it's 37 1/2 inches long and 13 3/4 inches wide. That's big enough to iron any shirt or pair of slacks. It's especially convenient for touch-ups, like an unexpected crease in a jacket or skirt.
This closet accessory has an added bonus: there are no ball bearings or slides, like you'd find on a regular ironing board. This means that your clothing won't come into contact with grease or become pinched in the legs of the ironing board. Included is a heat-resistant cover.
Whether you love to iron or press clothing only when you feel you have to, the fold-out ironing board offers a convenient, space-saving solution. Call Marco Closets today at 402.778.5777 for a free consultation. Let us show you how you can make sense of your space with a custom closet built to match your dreams.
https://marcoshuttersandclosets.com/wp-content/uploads/2019/02/drawer-ironing-board-.jpg
425
742
Mike Herman
https://marcoshuttersandclosets.com/wp-content/uploads/2021/06/marco-logo.png
Mike Herman
2019-02-12 07:26:23
2021-06-21 21:43:42
Ironing Boards Get A Makeover