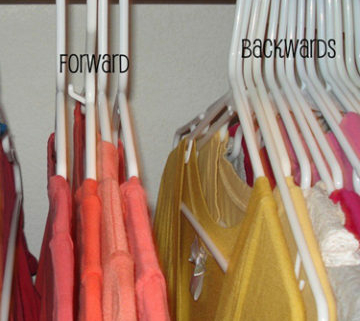 Organizing your closet for Spring
Spring has arrived and our wardrobe is now in transition. The turtle necks and sweaters can be put away so the blouses and tank tops can come out./span>
Did you know that most people wear 20% of their clothes 80% of the time? This means that as you switch your wardrobe around, you will most likely find some winter items that you forgot wear when it was cold out.
As you transition to your summer wardrobe, now would be a great time to set up a system that will help you edit your wardrobe on a daily basis. This is much easier and less overwhelming then dedicating a whole Saturday morning to your closet. Let me share a few tricks that can get you started.
Flip all your hangers backwards and after you wear an item you can put the hanger back the correct way. Yes, flipping all the hangers backwards is a bit of a pain but this will make such a difference on how you view your wardrobe. By doing this, you actually get a visual of which clothes you wear. This will encourage you to move away from wearing the same pieces each week. After a couple of months, if you still have some hangers that are backwards, you may want to get those items out of your closet. There is usually a reason you are passing over them each morning.
Place a donate bin, basket or bag near your dressing area to help facilitate the removal of unwanted clothing from your wardrobe. As you put clothes on and then take them off (yes, we all do it), determine why you aren't wearing the item. Some times it doesn't fit right or maybe the fabric makes you itch. This would be a good time to toss it into your donate bag.
Sometimes, the hardest part of removing clothes from our wardrobe is getting past our feelings associated with the clothes. We may feel guilt over how much we spent on an item or we may be hoping to fit into those small clothes after we lose a few pounds. But be honest, if you lose those 15 pounds, are you really going to wear the 20 year old jeans or are you going to celebrate with a new pair? And yes, an expensive blouse is much harder to get rid of than an inexpensive t-shirt. If this is a stumbling block for you then you may want to consider consigning your clothes. That way you get a bit of a financial return on your investment.
Article written by
Amy Tokos
Family Management and Life Balance Expert
Professional Organizer at Freshly Organized
Reprinted with permission courtesy of The Omaha World-Herald
https://marcoshuttersandclosets.com/wp-content/uploads/2016/07/worn-unworn-hangers-e1510074534581.jpg
357
360
Mike Herman
https://marcoshuttersandclosets.com/wp-content/uploads/2021/06/marco-logo.png
Mike Herman
2016-07-02 02:05:24
2021-06-21 22:01:45
Organizing your closet for Spring