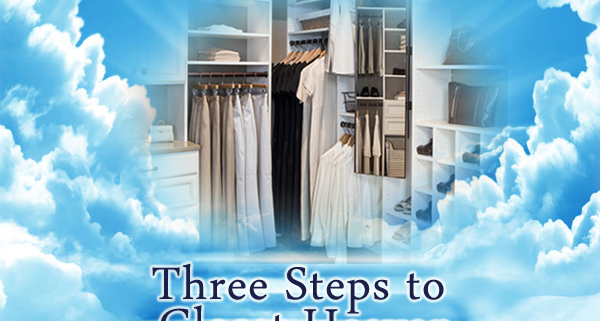 Three Steps to Closet Heaven
Would you like to see an organized closet each time you open the doors, but aren't sure how to make that happen?
Heaven is a place. It can also be a state of mind.
Organization brings peace to your life. With an organized closet, you won't wonder where things are. You'll know, and will bypass the frantic rush to get ready each morning because you can't find your brown shoes. Freedom from mental stress is one of the chief benefits of being organized.
Organization has other benefits:
You'll save time. The average person spends 60 hours per year looking for items they can't find. Redeem that time with organization!
You'll save money. Americans spend an average of $2.7 billion per year buying things they have, but can't find. How many pairs of shoes would that buy?
You'll have better self-esteem. We just feel better when everything is in its place.
You won't have too much "stuff". An organized closet has focus and is free of items you just don't need or want.
You'll love your home, and will enjoy being there. When clutter isn't talking back at you, there's more peace.
Are you ready to experience Closet Heaven? Our free, three-part course  may be just what you need.
It's simple: We'll send you three emails over three days. You'll be equipped with the roadmap you need to get to Closet Heaven. Start now! Sign up below and begin your journey today.
https://marcoshuttersandclosets.com/wp-content/uploads/2000/01/closet-heaven-with-clouds-2a.jpg
400
600
Mike Herman
https://marcoshuttersandclosets.com/wp-content/uploads/2021/06/marco-logo.png
Mike Herman
2000-01-21 20:30:41
2021-06-18 23:16:57
Three Steps to Closet Heaven