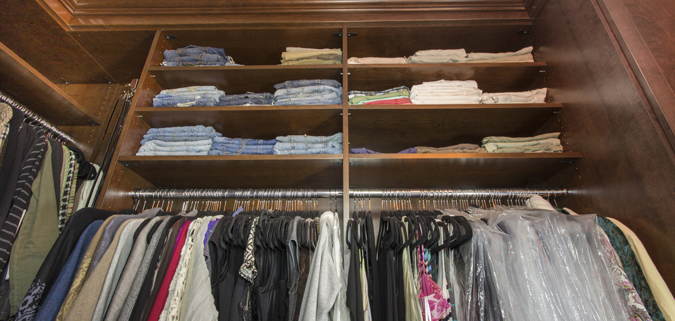 "Opening up your closet should be like arriving at a really good party where everyone you see is someone you like." – Amy Collins
When you open your closet, do you look at how you hang your clothes? Do you like what you see?  We're not talking about hangers, but about what the hangers rest on – the closet rods. If your closet rods are unattractive, scuffed or damaged, now's the time to look for inspiration and an upgrade.
Marco Closets offers an array of closet rods in different shapes and finishes. There's the classic round rod, an oval rod, and the new Signature rod, which is a textured rectangular rod. Signature and oval rods are available in polished or brushed chrome, oil-rubbed bronze, slate gray and matte gold. Round rods are available in matte gold, oil-rubbed bronze, and brushed or polished chrome.
Make Your Closet A Special Place
Why should you care about the closet rod? If you're like most people, at least half of the clothes in your closet are on hangers. Having an attractive closet rod sets the tone for your closet and for how you look at your wardrobe.  Beauty and functionality are all in the details – the small things are just as important as the bigger things. Classy closet rods elevate your closet design, and we think they help to elevate your outlook on life.
You know this from your own choices – the right accessory or accent can make anything – a room or your outfit – go from unremarkable to fabulous.
Our closet rods are just a few of the closet accessories we offer to make your closet someplace special. We have many options – such as closet islands, closed cabinets with glass doors, tilt-out laundry hampers, locking drawers and even a safe to store your valuables.
Closets are where you begin and end each day. Let Marco Closets make sense of your space with a closet rod worthy of your clothing, installed in a beautiful and functional closet.
Call Marco Closets for your free quote: 402.778.5777. Let's get started on your closet makeover today!
https://marcoshuttersandclosets.com/wp-content/uploads/2020/07/Closet-Rod.png
450
675
Mike Herman
https://marcoshuttersandclosets.com/wp-content/uploads/2021/06/marco-logo.png
Mike Herman
2020-07-07 09:56:23
2021-06-21 21:21:04
Classy Closet Rods Rule