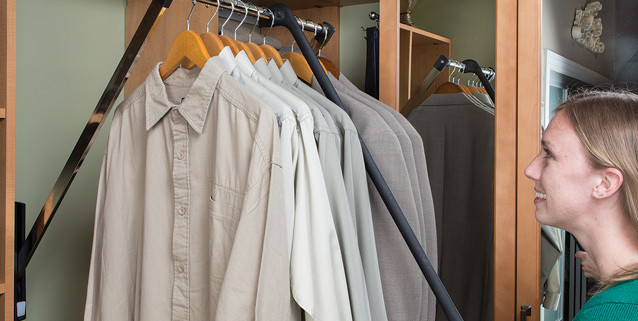 It's Waaay Over Your Head – Pull-Down Closet Rod
"Stretch, stretch. Arms waaay over your head." We used to hear that in gym class. We shouldn't have to perform sixth-grade physical fitness drills just to get our clothes out of the closet. Our Pull-Down Closet Rod allows even the most petite among us to reach clothing on higher clothing rods.  This Pull-Down Closet Rod also works well for those with disabilities.
Mounting clothing rods in upper and lower tiers allows for maximum space efficiency. Closets with 10 feet of height or more can use the Pull-Down Closet Rod to add a third row of hanging rods in the closet.
The hinged mount allows for the rod to be pulled down to a comfortable height, and easily pushed back into place. The handle (or push rod) swings back against the wall when not in use, so it will never get lost. It also has an adjustable length to adapt to many height requirements.
The Pull-Down Closet Rod is also suitable for walk-in closets. It's available in three adjustable sizes: 18-24 in. wide; 24-39 in. wide; 30-47 in. wide. Each rod has a 25 lb. load capacity.
Pull-Out Valet Red
Tie Rack
Belt Rack
Pull-Out Hampers
This closet accessory is just one way that Marco Closets helps you make sense of your space. We offer many other options, too. Our Pull-Out Valet Rod, Tie Butler, Belt Rack and Pull-Out Hampers can also add organization and easy storage to your closet. Why not call us at 402.778.5777 today? We offer free design and measuring. Today is always a good day to be organized.
https://marcoshuttersandclosets.com/wp-content/uploads/2019/04/pull-down-closet-rod.jpg
575
638
Mike Herman
https://marcoshuttersandclosets.com/wp-content/uploads/2021/06/marco-logo.png
Mike Herman
2019-04-10 22:08:26
2021-06-21 20:54:37
It's Waaay Over Your Head – Pull-Down Closet Rod