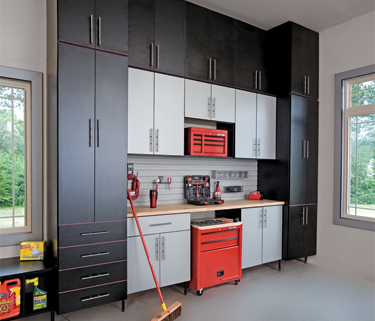 Why you need a storage system for your garage
Most homeowners use their garage as a multi-purpose storage area for basically any items that don't belong inside the house. Over time (or maybe right after moving in) your garage can become littered with mountains of forgotten junk and stacks of boxes, making the space in your garage unworkable.
By installing a custom garage storage system, however, you can eliminate clutter from your garage and organize all of your personal belongings. Garage storage systems can include cabinets, shelves, racks, workbenches, pegboards, and more.
Below, we've articulated upon just a few of the benefits of installing a garage storage system in your home.
Your garage won't be a cluttered mess anymore
First and foremost, installing a garage storage system will allow you to finally organize the cluttered mess that's been piling up in your garage for years. Maybe decades.
Those disorganized stacks of boxes and various items on the floor hardly ever get touched, which makes them excellent hiding spots for insects and mice. Plus, those objects can collect an almost impressive amount of dust.
Look, we're not judging you or blaming anyone here, and we're not trying to make you feel guilty about having a messy garage — it's a natural part of the human condition. But if you're anything like most homeowners, you've probably been telling yourself for a long time that you'll clean out your garage and get it organized "someday," so why not now? A custom garage storage system can help you achieve your goal, and you'll be able to find your hedge clippers whenever you need.
Your belongings will be protected
What do you keep in your garage? Probably your car, if you have enough space.
Aside from vehicles, however, most garages store a multitude of expensive belongings. Your lawn mower, your bicycles, and all those power tools most likely have some sort of value, so storing them safely and protecting them can greatly increase their product lifespans.
Dangerous equipment stays out of your child's reach
Small children can be very curious, and they like to grab things. Sometimes it can be an endearing little habit, but many of the items in your garage aren't very child-friendly. A garage storage system can keep household chemicals and dangerous tools out of reach for children, improving the overall safety and security of your home.
If you'd like to install a garage storage system in your home, or if you have any questions about garage storage, contact Marco Closets online, or call us in the Omaha, Lincoln, or Council Bluffs areas at 402.778.5777.
https://marcoshuttersandclosets.com/wp-content/uploads/2017/03/garage-black-cabinets.jpg
372
375
Mike Herman
https://marcoshuttersandclosets.com/wp-content/uploads/2021/06/marco-logo.png
Mike Herman
2017-03-26 08:56:25
2021-06-21 21:13:24
Why you need a storage system for your garage